Carrier is one of the highest-rated brands in the industry. Carrier heat pumps meet the needs of a wide range of consumers, from those who want cutting-edge comfort and high efficiency to those looking for a high-quality yet affordable heat pump. In this overview of Carrier heat pumps, you'll learn about the company as well as the 3 lines of heat pumps it makes.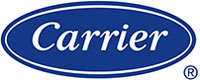 Willis Carrier called it "manufactured weather." Using heating and refrigeration technology, he is credited with starting the modern HVAC industry way back in 1902. Carrier continues to be a world leader in heating and cooling for residential and commercial applications. The Carrier name is synonymous with quality and innovation.
Like all the top brands, Carrier makes several series to give you options. Here's a look at them in order of their relative quality and price.
Carrier Infinity Heat Pumps: Carrier recently introduced its most efficient and innovative heat pump to date, the Carrier Infinity Greenspeed 25 VNAO heat pump. The heart of the unit is a modulating compressor that boosts efficiency to some of the highest levels in the industry while also creating superior climate control. All Infinity Series models are Energy Star rated for efficiency and offer staged heating and cooling for enhanced indoor comfort.
Carrier Performance and Comfort Series Heat Pumps: These single-stage and 2-stage heat pumps are all Energy Star rated and will help you control energy costs throughout the year. These are Carrier's most popular models, and you should be able to find a model that meets your requirements for efficiency and performance.
Carrier Base Series Heat Pumps: These are better than most brands' entry-level models. Carrier Base heat pumps are covered by the same 10-year warranty that backs the Infinity and Performance/Comfort Series models. These single-stage heat pumps are chosen by those who want Carrier quality in an affordable heat pump for their home, workshop, or cottage.
It's not surprising that Carrier heat pumps are among the more expensive available. Nothing about them is cheap, and most consumers who install them rate them as worth the money. We include Carrier heat pump prices in every one of our price reviews. You'll have the pricing and the details about features and performance, so making a decision about your next heat pump is easy.
Check Out Our Latest Carrier Heat Pump Reviews:
Carrier Infinity Series Model 25HNA9 Heat Pump
Which Carrier Heat Pump is Right for You?
Our Carrier heat pump prices are designed to help you find the right one for your home, business, cottage, or other location. Check out all our heat pump prices for models to compare with Carrier. Our large inventory of heat pump price reviews allows you to do all your research right here, and to make a great decision on your next heat pump.