The Carrier Comfort 25HCB6 is Energy Star rated with 2-stage performance. It's part of Carrier's more affordable series that offers outstanding indoor comfort too. There are few 16 SEER heat pumps with 2-stage heating and cooling, and this is one of the best.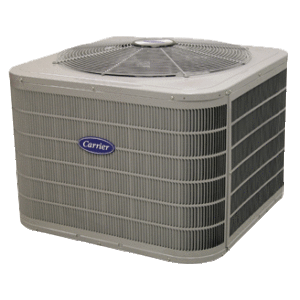 In this Carrier Comfort 25HCB6 heat pump price review, we cover the main features of this model and provide you with current heat pump prices. See other heat pump cost posts for similar models you might want to match head to head with this one. Our goal is to help you find the right heat pump for your requirements.
DescriptionFeaturesPerformance
Performance series heat pumps offer that perfect balance between budget limits you may have today and your desire for long-term energy savings.
The 25HCB6 boasts cooling efficiencies of up to 16.5 SEER. Like other Carrier® heat pumps, it's designed to be a Hybrid Heat® system compatible to help you save on heating costs in winter too. But this Performance 16 model also goes that one step further to give you two-stage compression for added comfort and quiet.
Up to 16.5 SEER cooling efficiency
Up to 9.5 HSPF heating efficiency
Sound: as low as 70 decibels
Superior humidity and temperature control
Two-stage compressor operation for excellent comfort and quiet
Filter drier system protection from moisture and contaminants
WeatherArmor™ Ultra protection
Non-ozone depleting Puron® refrigerant
10-year parts limited warranty
Up to 16.5 SEER
Up to 13.3 EER
Up to 9.5 HSPF
All sizes meet ENERGY STAR® qualifications
Excellent cold-weather performance
Hybrid Heat® system compatible when paired with select thermostats
Sound: as low as 70 decibels
Two-stage scroll compressor
System protecting high pressure and loss of charge switches
Filter drier
Recommended controls: Performance™ Edge® relative humidity or ComfortZone™ II thermostats
Heavy-gauge, galvanized steel construction
Baked-on, durable powder coat paint
Steel, louvered coil guard
What is the Carrier Comfort Series 25HCB6 Heat Pump Price?
The Carrier's reputation for quality and the 2-stage performance of this model makes it more expensive than many. Here are current heat pump prices for this model:
2 ton Carrier Comfort Series 25HCB6 heat pump:  $3,050
3 ton Carrier Comfort Series 25HCB6 heat pump:  $3,450
4 ton Carrier Comfort Series 25HCB6 heat pump:  $3,880
5 ton Carrier Comfort Series 25HCB6 heat pump:  $4,320
What Do You Get for the Money?
This is a 2-stage heat pump. It heats and cools on low most of the time. This produces longer cycles that reduce hot/cold swings in your home. The result is even temperatures. In hot weather, a 2-stage heat pump will increase comfort by removing more humidity. Here are the specifics:
16.5 SEER cooling; 9.5 HSPF heating; Energy Star
The 2-stage compressor produces the best results with a variable-speed blower.
Advanced insulation further reduces noise.
Supports the Carrier Edge or Comfort 2-Stage thermostats.
Pressure switches and filter dryer improve compressor longevity.
Tough, durable cabinet is powder-coated for appearance and rust-resistance.
10-year compressor and parts warranty is about average for the industry.
Is the Carrier Comfort 25HCB6 Heat Pump Worth the Price?
The first consideration is whether or not you want to pay more for a 2-stage operation. If you're a stickler for indoor comfort and don't want to experience noticeable temperature fluctuations between cycles, you'll enjoy staged heating and cooling. If your concern costs more than fine comfort, you'll do better with a Carrier single-stage model like the Carrier Comfort 25HCC5. See our review of that model for details.
In terms of efficiency, this model is ideal for moderate climates without extreme highs or lows. If you get freezing weather throughout the winter, consider a dual fuel heat pump; if summer temps are consistently in the mid-90s or higher, choose a unit with a higher SEER rating. If your climate is "just right", with occasional hot stretches, the Carrier Comfort 25HCB6 heat pump is an ideal choice.